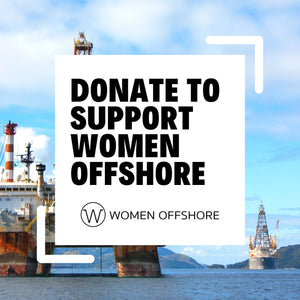 Through GivingTuesday, December 1st, 2020, donate to the Women Offshore Foundation to support female seafarers around the world, and receive 10% of your donation back as a gift card to use at WomenOffshore.Shop!*
The Women Offshore Foundation (EIN #84-1937291) is a 501(c)(3) nonprofit organization supporting the careers of female seafarers around the world and managed by volunteers. Your donation is important to keep our programs going and is tax deductible!
Our programs include:
- Mentorship: A virtual mentoring program with up to 500 participants that connects women around the world.
- Podcast: The Women Offshore Podcast can be found on most podcast apps and covers various topics that affect seafarers.
- Webinars: Free webinars on our social media platforms.
- Website Resources: Inspirational articles, tools, and knowledge for having a career on the water.
*Applies to donations of $50 or more. The gift card will be emailed within 48 hours of processing the donation.
Customer Reviews
07/11/2020
Dianne M.
United States
Cap and t-Shirt
Both are nice quality. T-shirt sizing is pretty much as expected. I wear a medium or a small, but I ordered a large so I could enjoy a loose fit.
07/08/2020
Humu B.
Ghana
Excellent initiative
I loved it, I felt happy about donation whereby I got to share even my little amount of money with the foundation. I think it should continue to be in existence so we also support the mentorship program
06/03/2020
Christine F.
United States
Donation Receipt
I think it's a very good cause but I would like to receive a receipt so I can claim the donation on my taxes
05/15/2020
Steven P.
United States
Great Organization!
I'm supporting Women Offshore due to the excellent work they do helping people start and advance their careers.